Restoration for old & damaged
Here are a couple of examples of some work with old pictures that I recently completed. Click on a picture to see more details.
---
The first one is an old picture of a soldier from world war one. There were pieces stuck together with tape to hold the whole thing together loosely, although here was effectively a broken picture in very poor condition. There was also some research required to restore this large picture.
The second restoration shows an old photographic print that was fading with some discolouration and the odd mark.
Authentic picture repair services for the high quality restoration and reproduction of any old pictures damaged or in need of enhancement.
---
Customised and enhanced gift ideas
Whether it's a small old photograph, a digital image, or a large picture needing assistance, you'll find advice and services here to help make any picture better or turn it into a unique gift. Using any old photographs in their original format, the restoration and repair services can provide much better quality copies even from a poor original with damage or faded details. If you would like your picture changed in some way with realistic looking results, high quality digital editing services are available to suit your requirements.
It's always worth looking through any old photograph albums to see if any forgotten photos from the past could do with some modern corrections using the digital editing service. See previews of some of the other photo repair services below or visit again to see some of the other projects going online as soon as completed.
Fine detail retouching artwork
The enhanced pictures can be produced as a same size replacement copy or used to make a better quality enlargement, large format mounted print, or beautiful cotton canvas option. Restorative artwork and subject detail retouching can be used to make perfect gifts from many photographs and you'll find customised size, colour, clarity and artwork options to enhance to a high quality finish. To help with photos needing special attention because of odd sizes, artificial photo extension options using digital artwork are available for many custom sizes to change a photo shape without cutting off the side.
Colour enhancements and subject face change / retouching options for ways to help with the look of a photograph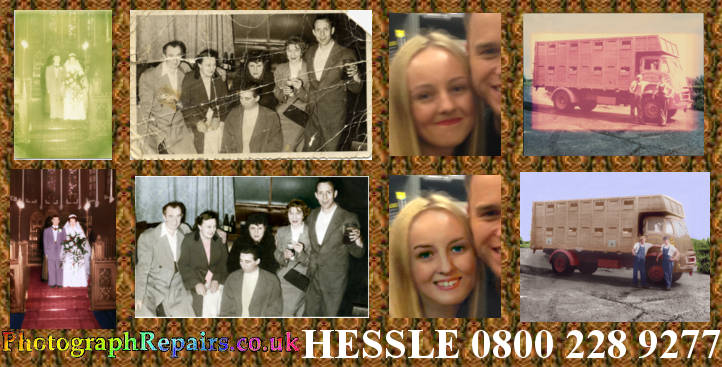 UV damaged photo repair and colour restoration, colourisation, and digital retouching are some of the photo options on offer.
Hand made for better quality copies
All projects taken on are carefully processed by hand and eye with digital image enhancement and restoration artwork applied to details where necessary. This is a high quality bespoke service with realistic and authentic results, not an auto editing app for photos! Get in touch here with any request or if you need further details or assistance. These photo repair services are available via email, web, post, or local visit.
Popular gifts using old photographs and more
Some of the services can be used to help with photo gift ideas by restoration and repair of damaged old picture prints or by fixing subject / background problems in an otherwise good photograph, along with making colour copies of an old photo from black and white and other beautiful options for your pictures. A forgotten old photograph made into a gift using this service will always surprise and delight. An option to custom adjust subject colours and other details assures a perfect finish in the enhanced copy.
A unique service different to shops
Some of the services available are not considered practical and are simply not included or offered by most of the old photo shops out there, which don't offer the same flexible online service to help where needed. Here you can always preview and adjust pictures prior to producing copies, or ask for suggestions to help with photos that you're unsure about, so why not arrange to make a photo beautiful with this enhanced quality copying service?
Clarity improvements with spotlight effect (left) and photo extension options (right)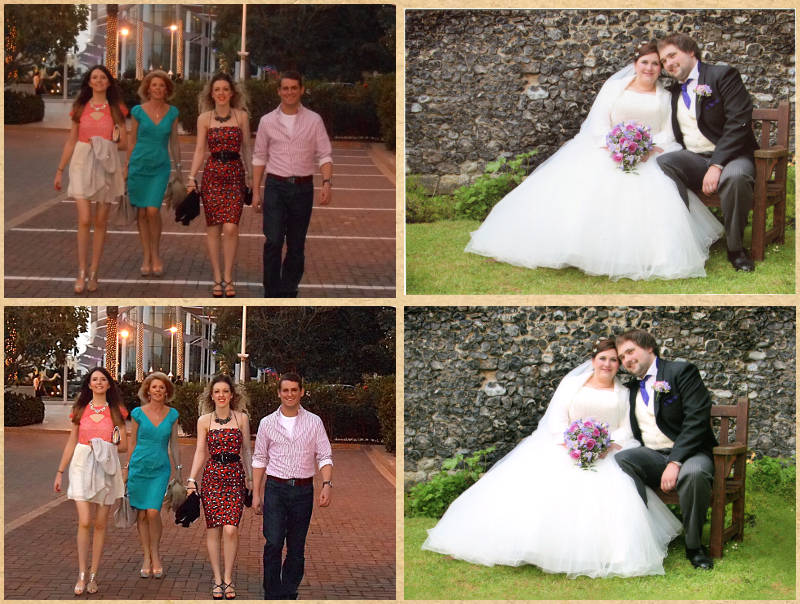 The digital image (left) was poor quality (low resolution & dull) before being enhanced and produced as a canvas.
In the badly taken photo (right), artwork was added to the right side to extend background & centre subject details.
All restoration, repair, corrections, and other enhancements are safely made to a digital copy of the original.
Digital images
If you are looking for help with digital photo colours, background / subject details, or clarity:
Email any images to the service at info@photographrepairs.co.uk with details of any special help needed
Please get in touch if you need any help with copies in digital format you're trying to send (attach only one image per email if file size is over 10mb) or for other options for those
These can also be produced as custom size copies on any finish as described.
Original photos and pictures
Please feel free to either post your original photos to the service below or arrange to visit and discuss your requirements in person. Pricing is based around each individual photo's requirements, and can be made flexible to suit any budget by adjusting the final print resolution and other aesthetics if necessary. I offer a tailored service and am always happy to discuss how you would like your final picture to look. I pride myself in offering this unique high quality bespoke service, and I don't have shop overheads to pay for which means using these photo repair services doesn't have to cost you a fortune.
If you are scanning photos yourself, get help with copying old photos here, along with advice for the correct dpi quality settings when making your own digital copies.