✔ Get help with picture problems
✔ Customised photo options
✔ Turn photos into special gifts
✔ High quality at prices for most budgets
Specialising in digital editing for over 15 years, photographrepairs.co.uk is a Yorkshire based home run business creating enhanced quality reproductions of your pictures with professional retouching artwork, repairs, corrections, and enhancements.
Your digitally edited images from the service can be used to produce a beautiful photographic print or canvas far exceeding the quality of the original used.
Most requirements are bespoke and pricing is tailored to each individual picture and the level of artwork required, with a wide selection of artistic and media finishes available to meet most budgets.
---
Customised changes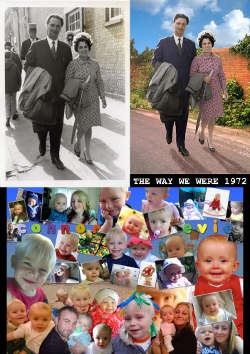 Many pictures onto one (collage)
Image editing service
---
Restoration and rebuilding of damaged pictures
Bespoke changes and styles or selective effects
High detail enlarged copies and photos onto canvas
Professional adjustments for colours or clarity
Retouching artwork and authentic colour matching
---
Old pictures hand coloured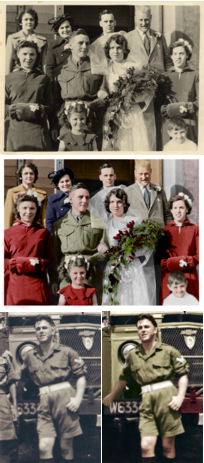 Special photo gifts to surprise
These are just a few of the ways the service can help with your pictures. Get in touch if you have a problem that you're unsure about, or take a look at previous work below to get some ideas on how the service can help with your photographs.
>>> TAKE A LOOK IN THE PHOTO ALBUM HERE <<<
---
Convert your photos to digital
---
Preserves original photo details by converting to a timeless format
High resolution scanning ensures quality digital copies
Opens the door to a range of exciting digital editing options
---
Why let old photo print colours fade and lose more details, when you can preserve what you have by having high quality digital copies made now? Your picture is scanned to make a digital image that won't degrade and once created, digital editing services can be used to provide many of the restoration and enhancement options that you see listed here (plus other bespoke photo services too numerous to mention).
---
Copies reproduced on canvas or photographic print
---
100% cotton high quality canvas
(original photo enhanced and shown to scale)

Bespoke size photographic prints
Enlargements and large format
Optional mounting and framing
---
Sourcing from local and online suppliers to find bespoke frame or mount styles and colours or the right photographic media to suit your tastes, photographrepairs.co.uk can provide all the photo services and products that you need for high quality reproductions of your enhanced images, on finishes including photographic matte, satin, gloss or beautiful cotton canvas for any reproduced pictures.
For repairs to large format old pictures that were originally produced on board, your final reproduced photographic print can be mounted on an authentically matched finish.
---
Photograph album
---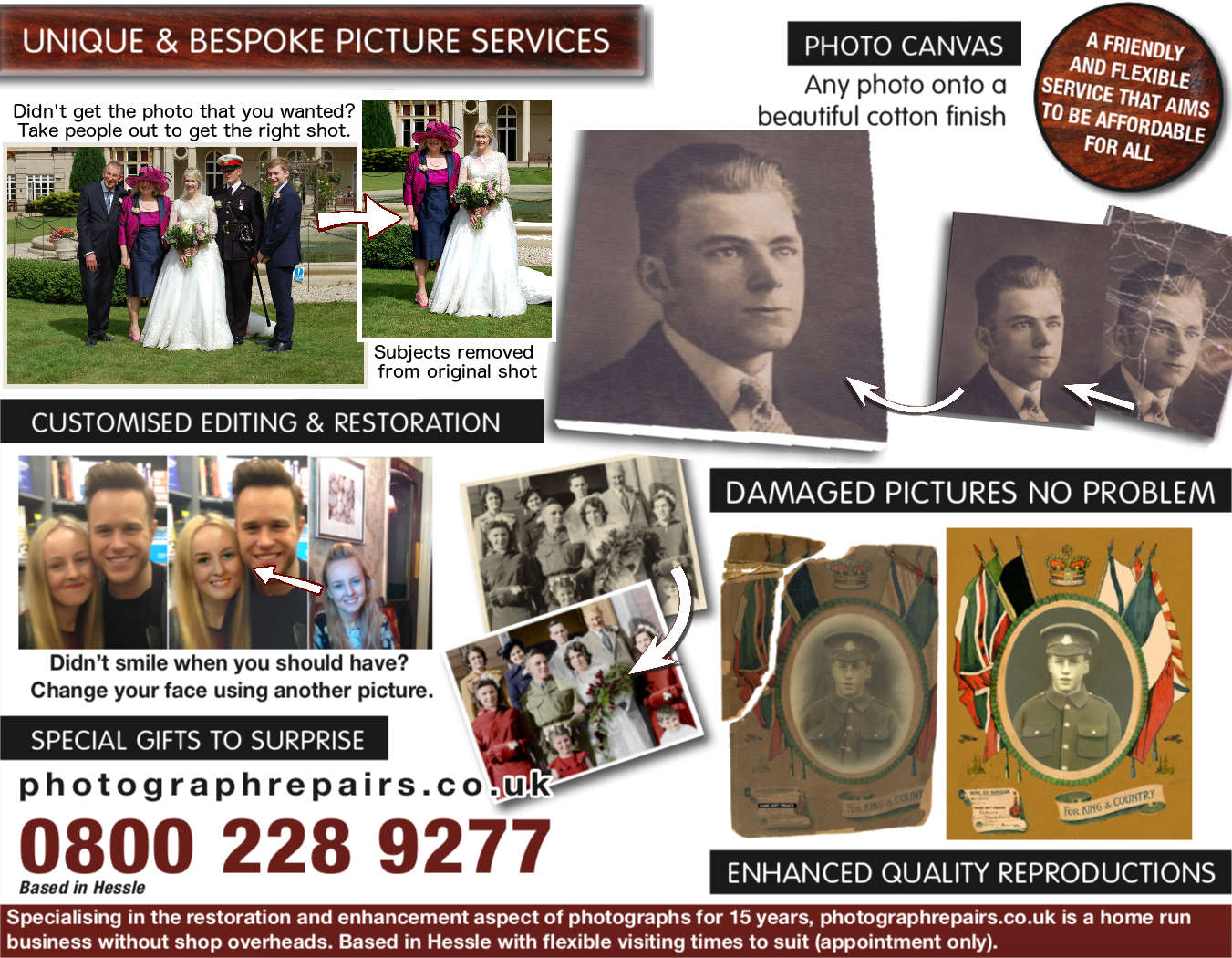 A range of photographic improvements are available to change how a picture looks from enhancing clarity and colours to altering subjects and backgrounds or other customised options to change the style of your photograph.
High quality digital editing to your bespoke requirements makes for unique and special photographic gifts to surprise and delight - a recent customer was nearly in tears after seeing one of his old pictures restored and revived.
This is not an automatic photo editing app and all requests are applied by hand and eye, with projects usually completed on a first come first served basis. The service can be quite busy around times like Mothers Day and Christmas so it's wise to get in touch with your request well in advance if you're thinking of ordering something as a gift!
---
Restoration and repair of old prints and pictures
---
Shown below are two recent pictures repaired using the service (click on these for a closer look in more detail)
---
First shown is a large old picture of a world war one soldier dated about 100 years old and it's size was about 16" x 20".
Prior to being digitally fixed and reproduced this broken picture was in very poor shape and due to it's age and brittle condition the pieces were being held together with tape. The far right side was missing and looked like it had broke off quite some time ago.
---
The next was a smaller photographic print sized at around 6" x 8".
The colours and details were starting to fade and the photo had creasing, marks, and discolouration over the main subjects before being restored, enhanced and reproduced as an enlarged print at 10" x 8".
---
Custom adjustments and artwork
---
Poor clarity low resolution image and a badly framed shot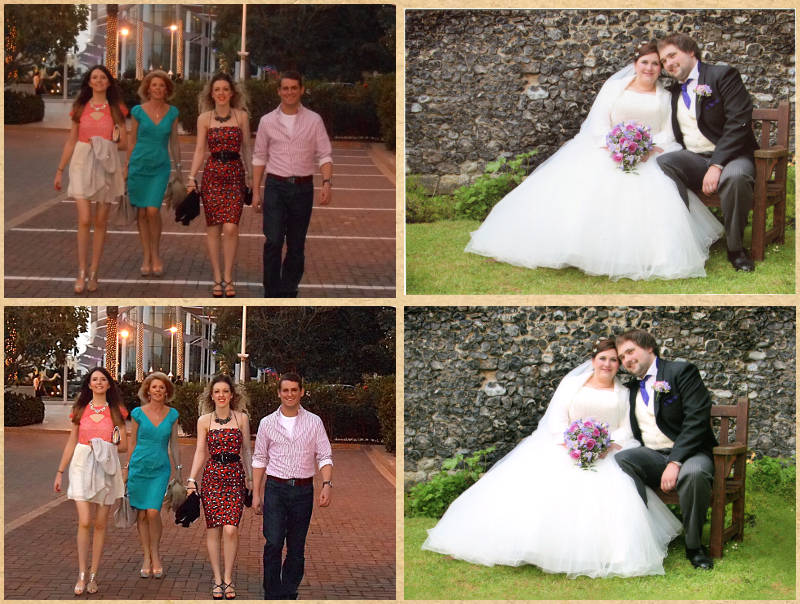 Adjustments, effects, and extension artwork.
The first example shows a blurry digital image which was taken in low resolution (only about 1 megapixel). It was lacking clarity in the colours and subject details, with blocky pixels appearing up close as it was such a small and low quality image. Would it make a good canvas?
The final result was a smooth high quality digital image in which the details and colours were enhanced to produce a vibrant colour canvas sized 16" x 12". The subjects had a spotlight effect applied to highlight them, and some background alterations were also made.
The other shows a photo taken badly with the subjects off centre and too close to the right side. Can the angle of the photo shot be adjusted as if it was taken more to the right?
By extending the photo background with retouching artwork the subjects can be adjusted to any position. The detail to the right of the chair is artwork that's been added - it's a fake photo from that point but it's hard to tell, right?
---
A unique tailored service to help with any photographic problems
---
Some of the picture options provided here are not offered elsewhere like the option to fine tune details and colours to your tastes with high detail retouching artwork, including many unique options to help with improving clarity or changing other photo details or sizes as illustrated.
Take a look through your old photo albums and you're bound to find a good photo that's been forgotten about that could do with some digital improvements.
These photo services are available via email, web, post, or local visit and all restoration, repair, corrections, and other enhancements are safely made to a digital copy of your picture.
Digital image formats
If already have pictures in a digital format you can email them to the service at info@photographrepairs.co.uk
If you are having problems sending larger images due to your email size limits, get in touch and alternative transfer methods can be provided.
Using originals and prints etc
You can post your original photos to the service at the address below or arrange to visit and bring them round in person for a quick consultation to discuss what services you require.
Don't have access to scanning equipment and don't want to post an original photo print or have to visit? If you can email a good quality digital photograph of your picture or post a decent quality copy, that can achieve fair results and may save a lot of worry about getting the original to the service. Making another copy will cause some loss of clarity depending on the quality although that can be enhanced digitally. Get your picture square in the frame of the shot and as large as possible, use the best quality setting if available and keep the photographic device steady for best results. Copies created from as close to the original media as possible will provide maximum authentic details.
Be sure to bookmark this page or use the like / share button to tell others about it if you're on Facebook, as there's always something new going up that might interest you or someone you know.